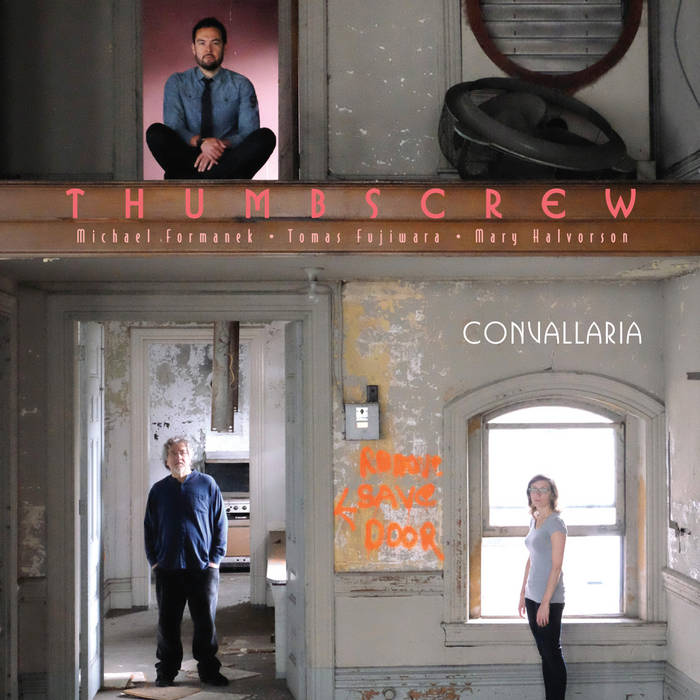 Mary Halvorson made an important career step last year with her fantastic solo album Meltframe.  Although Halvorson had previously released good material backed by various heavy weights of the jazz scene, Meltframe served as the epitome of her quirky, electronically manipulated guitar chops.  In collaboration with her Thumbscrew ensemble of highly regarded bassist/composer Michael Formanek and drummer Tomas Fujiwara, Halvorson has provided the jazz community with another strong example of her ability to apply these standout playing chops to group situations on the new album Convallaria.
Throughout the album Halvorson and Formanek trade melodic ideas.  Both successfully adapt to the playing space with Halvorson focusing more on the singular melodic line than the wavering chords.  Droning guitar melodies float in space sometimes fully embracing the sound of sustained distortion.  Her signature pedal sound is still present with Formanek's bass solos being highlighted by constantly bending guitar sounds.  Formanek showcases both his liking to reserved bass work and high intensity melodic solos.
Compositionally the album does vary a lot.  Some songs, in particular "Screaming Piha," drone into obscurity through the incorporation of distortion from Halvorson.  Others, such as the title track, include very clear melodic motives with solos moving from member to member of the ensemble.  Despite the use of these slightly straightforward song structures, the album remains very subdued rhythmically making the idea of time an afterthought.  Songs will sometimes begin with very spaced out ambience with Fujiuara slowly finding more of a groove as the song develops.
I enjoyed this album a lot.  The songs surprised me from beginning to end making for a very intriguing listen.  I believe that I will be listening to this album a lot in the coming weeks and possibly throughout the year.
DB