Chemiefaserwerk-Collagen
Very intriguing new sound art from Chemiefaserwerk.  A premier record on the new Falt records label based in France!
check out my thoughts on track "Stromern":
"On "Stromern," Chemiefaserwerk leaves his listener in an esoteric white noise soundscape to fend for themselves"
also look into my first impressions on the project:
"values subtlety above all else with fuzzy peaks of white noise arriving between open spaces with crisp crackles and pops"
Thumbscrew-Convallaria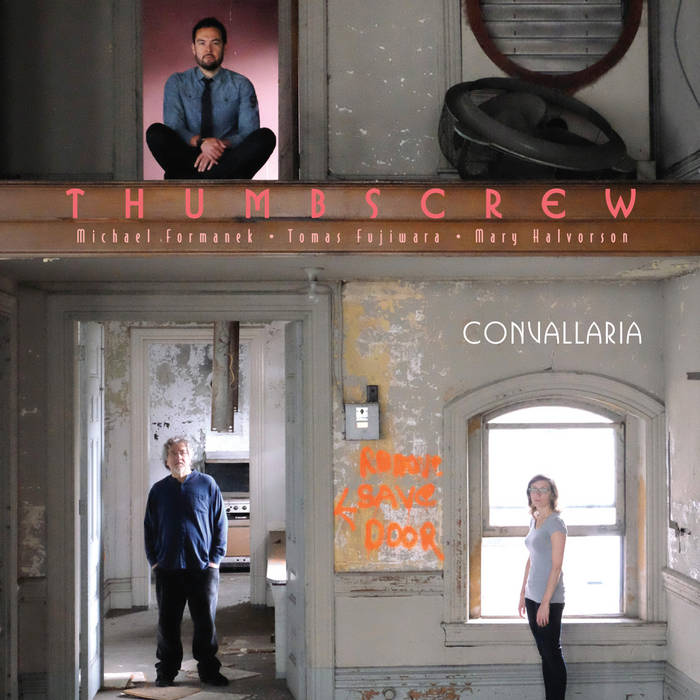 Mary Halvorson's involvement in a project signifies some level of intrigue.
Check out my thoughts on album opener Cleome:
"he way the whole piece is articulated makes it feel very natural.  Without the time signatures being fed to the listener by the drums, Halvorson's melodies fit into her normal playing style"
Check out my first reaction to the album here:
"Halvorson has provided the jazz community with another strong example of her ability to apply these standout playing chops to group situations on the new album Convallaria."
Death Grips- Bottomless Pitt
Death Grips always deliver and this album is no different.
Read up on my thoughts of the album's kick-ass opener "Giving Bad People Good Ideas":
"The song is almost entirely unrelenting, with Ride's breaks lasting for seconds before his words fade back into the picture."
Also check out my First Impressions on the album:
"a collection of really sleek, quick hitting songs with fantastically crisp texture"
Suuns-Hold/Still
I felt like I didn't really have enough time to digest this album when it came out in April, but it became a big part of my May and I've been writing a lot about it.
Check out my full review:
"effortlessly combines guitar-based rock music with sounds of Montreal's underground resulting in one of the most interesting contemporary releases of the first half of the year"
Also check out my thoughts on the track Resistance:
"The brooding bass sounds accompany the snarling vocal delivery of the lead singer, building and building into a hypnotic groove.  Pressing synth waves and ricocheting guitars build up tension culminating in a release of tension into more ambient territory for each chorus section"
T-Rexstasy-Jurassic Punk
T-Rexstasy is a new punk band with a fantastic debut record.  They have a very unique sound and
Check out my First Impressions on the album:
"T-Rextasy employ unique vocal deliveries over their riot grrl foundation to stand out in a crowded genre"
Also look into my thoughts on their song "I Wanna be a Punk Rocker:"
"The chorus is fun, the guitar playing crude, making the song a perfect example of punk rock"
The Range- Potential
Although this album came out in April, I found myself listening to it a lot this month and I believe that it had more to offer than the electronic albums that were released this month so I wanted to recognize it as one of my 2016 highlights.
Check out my thoughts on the song "Florida":
"Beginning with plucked strings and other textually intriguing sounds, "Florida" includes a fun, dance-able beat with a bright vocal sample."