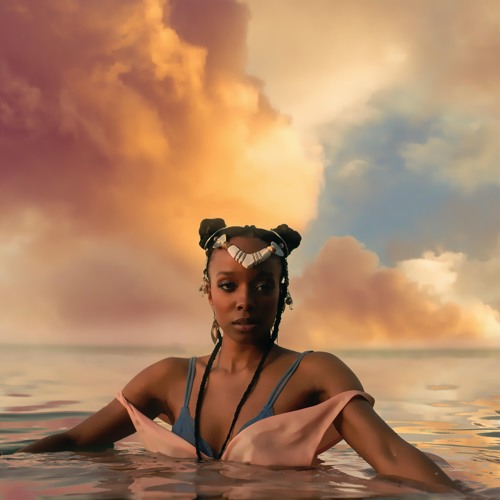 Jamila Woods burst onto the scene last year with her feature beside Chance the Rapper on "Sunday Candy," a song created by Donnie Trumpet and the Social Experiment.  Woods has an undeniably beautiful voice, which served as the perfect addition to the wholesome message of the song.  On her first solo project, Woods offers a personal look into her relationship with her skin color, sometimes highlighting the struggle with police violence with other areas focusing on pride and bright-eyed retrospection.  Most of the songs are followed by a brief recording of Woods talking about her life experience adding a very intimate element to the album.  The work serves as a solid first release with Woods' voice remaining powerful throughout.  It is somewhat clear that Woods is still developing as an artist, many of her songs sounding the same with no major changes in production or even tempo really taking place.
"Heavn" begins with a short intro track, "Bubbles," with Woods' deliberate vocals floating atop light beat production.  Woods truly wears her identity on her sleeve, the first lyrics on the record reading "black girl be in a bubble" before the theme of blackness returns in the second song "VRY BLK."  Here, a cute melody contrasts the bleak lyrics about police violence: "you take my brother/I fight back." Woods' wordplay also makes an appearance on this track, her words occasionally spilling over the end of poetic lines.  For example, after uttering the phrase "my brothers going to heaven" the next line falls incomplete "the police going to" with the first syllable of the next line, "hell," being emphasized.  "Lonely Lonely" switches gears a bit lyrically turning towards the struggle for self-love and feeling like an outsider; "I'm not ok thanks for asking/I can tell I've said too much/I'm out of touch/guess no one ever really wants to know."  The album continues along similar lines, with the hook of "Blk Girl Soldier" ringing out as a highlight.
The album carries a certain emotional weight with Woods taking time to reminisce on life experiences between certain tracks.  After "VRY BLK," Woods emerges from song to tell a story about an inside joke type of experience that she had with some other black co-workers.  Although she had never met these woman, they were all able to recite a rhyme from a childhood game, the words deeply engrained in each of their minds.  In another instance Woods speaks about her mother and the way she was named.  Each of these storytelling moments, sound like they were recorded on a cell phone with Woods clearly putting her heart and soul into the words, bringing the listener directly into her life.
Sonically, the album fails to really take risks, thriving heavily on the beauty in Jamila Woods' voice with little contrast coming from track to track.  The hesitant drum beat on "Lonely Lonely" matches the intentions of the more electronic rhythmic efforts on the first two tracks with each track remaining in the same relative place.  Structurally, the album follows a straightforward path on each song choruses and verses coming at predictable rates with the occasional rap verse coming out of the woodwork.  Even the vocal lines fall victim to a bit of stagnation.  Woods' voice remains around the same range throughout never straining to present high notes or strained expression.  It should be noted that the lyrics are not really relatable to my life experience (I'm not a black woman), which effects the way I consume the album's overall sound.  If every word was especially relatable to me, I would be more emotionally attached to the work.  However, I do feel that Woods isn't breaking much from the neo-soul pack sounding a lot like Erykah Badu and Frank Ocean at his most subtle.
Jamila Woods is a good musician with a great voice.  On her debut solo record, potential is everywhere, her voice and emotion never failing to provide the listener with something to hold onto.  As a whole, the album feels a bit safe perhaps a bit more risk taken in songwriting and vocal delivery would bring a bit more replay value on later releases.
6.5/10 Jamila Woods is in a good place, but I would like to see her push herself a bit to take more risks.