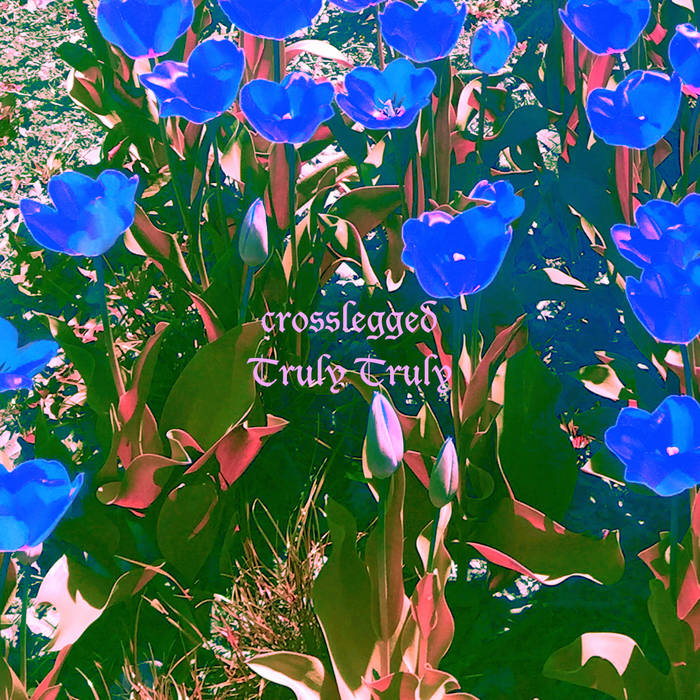 Keba Robinson is an independent artist from Brooklyn who has been recording under the name Crosslegged since 2011.  Encompassing a wide array of sounds in her songwriting, Robinson sometimes finds home in long, haunting notes strung over a moody bass groove, elsewhere favoring lightly-articulated, bright melodies embedded within a sunburst rock sound.  On Truly Truly, four new tracks are added to the bandcamp page, each providing something worth pondering.  "Under the Nose" operates as the single, its silky vocal melody immediately unveiling a certain intimacy that would remain constant throughout the project.  Comforted by the lush instrumentation, this intimacy gives the soundscape an immense amount of heart making for an emotional musical experience.
Beginning with a relatively standard guitar melody, "Under the Nose" builds an extremely well balanced sound, each instrument committing to a specific duty.  Robinson's lyrics discuss the escapable quality of emotion, suggesting that happiness and love may be directly under one's nose, yet still fleeting; "under your nose but still you're turning around again." "Blue and Green" may be a slightly weaker sonic effort with a few too many sound effects surrounding the core of the song, losing the focus of the first track.  Strange rhythmic snapping sounds occur on the occasional off-beat, with continuity lost a bit in the melodic layering.  Nonetheless, the track finds a bit more completion by its end, the lyrics "Truly Truly" reigning in an optimistic melody. "Stand On" showcases Crosslegged at her most catchy with highly articulated guitar complementing a singable melody.  The EP finishes off with a long droning effort in "With the Wind," repetitious organ providing the foundation for an emotional vocal delivery.
Robinson always takes time to build her songs up.  Rather than immediately shedding light on the song's direction, sketches of the song's intended sound slowly amass themselves bringing the groove full circle.  This ideology somewhat works against her on "Blue and Green," where the song takes a bit too long to organize itself, making the beginning feel random, however, it also saves the songs from sounding too formulaic, each groove naturally coming together as the songs press forward.
Instrumentally, Crosslegged shows a lot of potential.  A unique pallet of synths and sound effects come into the picture on each song, escaping Robinson's guitar/vocal roots while also avoiding a full band sound, which may be the source of the intimacy that comes through clearly on each song.  Robinson's whispery vocals read as the centerpiece due to the subdued energy surrounding her.  Although it is certainly possible for a band to accompany a quiet voice, there is something about these songs that make them sound as if they come from a singular place, Robinson being the only soul behind the whole experience.  This really helps her showcase her heart quite directly, contributing to the emotional effect of the work.
Truly Truly showcases Crosslegged's knack for constructing grooves; her eerie vocal work helps develop small, initial ideas into full, warm song structures.  By leaving her instrumentals at something of a distance, Robinson remains dedicated to the singer-songwriter set-up, which suits her voice more than a full ensemble sound would.  Perhaps a bit more growth needs to take place in her production, her songs sometimes show immaturity, but she is certainly in a good place right now.
-Donovan Burtan
I really like this EP, Crosslegged has a bit of room to grow, but her potential is clear. 7/10