I try to recommend roughly 5 albums per month, generally giving them a score of 8 or above, here's a running list of them:
Lil' Wayne-Tha Carter V
"Wayne just does him and makes a breezy collection of songs over a variety of production with biting rhymes that seemingly never slow down"
Tim Hecker-Konoyo
"breathtaking and emotionally charged in it's melodic choices, perhaps not making its fans into different people, but validating the ebb and flow of their introspection"
Kero Kero Bonito-Time 'n' Place
"Time 'n' Place doesn't completely erase the extreme take on buoyant joy of the band's past, but the group finds an ounce of anxiety with every feeling of bliss as they grow up sonically and emotionally"
Marie Davidson-Working Class Woman
"The album can be tied specifically into Davidson's experience, but it also addresses contemporary culture in a more sweeping way and thankfully there's room for fun in there too.  Whether you want to feel the overwhelming weight of the day, or head-bang it away, Working Class Woman has you covered"
Christine and the Queens-Chris
"Chris doesn't necessarily loose any sense of continuity or flow, but the work is never one sided, seeing its creator become an identity that cannot be locked down or simplified into one symbol"
milo-budding orinthologists are weary of tired analogies
"milo doing milo, a welcome individual in a particularly strange period of internet rap"
Low-Double Negative
"most overt rework of rock music this year"
Noname-Room 25
"in comparison to her debut's haze, here the young rapper sounds untouchable with a newfound sense of confidence making for a jam packed 35 minutes that'll stick to you like glue"
Spiritualized-And Nothing Hurt
"It's a 48-minute journey that never comes off heavy handed, yet reaches orchestral proportions and delicate intimacy in one fell swoop"
Foxing-Nearer My God
"Foxing may fall victim to some of the genres shortcomings, however, their career has seen them grow more mature with each release and Nearer My God is the culmination of their talents"
Mitski-Be The Cowboy
"Mitski Miyawaki was a great songwriter all along, and Be The Cowboy is her first step to full-blown visionary."
Ariana Grande-Sweetener
"Ariana Grande has been a voice to root for in pop for a while…but Sweetener sees her on top of the world making an album only she could for the first time."
Wild Pink-Yoke in the Fur
"the group seemingly just strums harder or yelps with a bit more intent, however, these moments are transcendent, diving into the soul and making one believe in the magic of life again"
Denzel Curry-Ta1300
"The bottom line is Denzel Curry can rap his ass off and write a catchy hook.  Taboo sees these talents fleshed out in a multitude of different ways yielding standout material and effortless flow."
Travis Scott-Astroworld
"relentlessly fun, sonically gorgeous, and above all responsible for some of the most insane musical ideas to be put together of the year (and beyond)"
Dear Nora-Skulls Example
"the pastoral tone and lyrical imagery make for a believable simulation, but just as our technological world can feel at once unimaginably beautiful and utterly horrifying, Davidson's intimate styling has an ounce of despair at every turn"
Lotic-Power
"the work shatters song-form, colliding artificiality and human touch to capture the violent erosion of feeling other"
Kelly Lee Owens-Kelly Lee Owens
"taps into ambient and drone traditions while also delivering a constant stream of danceable bass lines and bouncy synth arpeggiations."
Lorde-Melodrama
"Lorde took a while to come back, but the last four years have been all growth and her empire is just beginning."
SZA-Ctrl
"SZA pinpoints relatability while avoiding tired cliché"
Clark-Death Peak
"a great deal of variety in the project and the logical march from light to mean makes it digestible and addicting"
Vince Staples-Big Fish Theory
"Staples maintains his usual drawl speech and coy attitude as huge, biting electronic-influenced beats explode beneath him and hooks talk up his come up, moving from little pond problems to 'countin' up hundreds by the thousands.'"
Kara-Lis Coverdale-GRAFTS
"'Grafts' is one of her more condensed projects and although works like "A-480" and "Aftertouches" certainly offer blissful sublimity from beginning to end, "Grafts" is certainly her most no-moment-wasted work to date."
May 2017
Jaimie Branch-Fly or Die
'"Fly or Die" didn't come together in a conventional manner and it owes a little bit to each of the traditions that Branch has experienced over the years.  The record seamlessly incorporates post-production guitar ramblings, live set interpolations, and dubbed over trumpet trios without losing the sense of a single paint stroke.'
Jessica Moss-Pools of Light
"Moss doesn't need much to craft beauty, but her many different songwriting approaches make her debut surprising at every turn."
Perfume Genius-No Shape
"Perfume Genius has been prolific throughout the current decade and never fallen short of staying true to their songwriting footing.  "No Shape," their latest, isn't earth shattering and doesn't mark a dismissal from Hadreas's glam-baroque pop (with a dash of heartfelt ballad) background, however, it's a logical step forward and never falters in delivering entertaining, emotionally moving material."
Arca-Arca
"Arca's video "Reverie" is a good marker for the overall effect of his self-titled work and a true must see of 2017.  Stilted up like a gazelle, Alejandro Ghersi painstakingly inches back and forth on screen, before an animalistic phallic shape emerges out of his groin and takes control of his body, leaving his face in even more pain.  From his rear, the viewer sees blood stains.  It's confrontational, unsettling, and carries the scars of the queer experience."
Feist-Pleasure
'"Baby Be Simple" finds breathtaking delicacy at the hook and "I Wish I Didn't Miss You" rides a cathartic lilt, but the title track finds a bit of punky bounciness and "Century" throws in a collage of punching vocals.  Tackling life's general ups and downs, her lyrics don't cut too deep on their own, but the intimate instrumentals make for an impactful emotional experience.'
Blanck Mass-World Eater
'"World Eater," the latest from UK-based industrial/noise producer Blanck Mass, pummels and jolts.  After the quick, introductory track, "Rhesus Negative" fills itself to the brim with chaotic noise—tapping into some Aphex Twin influenced vocals and a bit of a hardcore punk bluntness in the percussive sounds—for a riveting nine minutes.'
April 2017
Valeda-Unearth
"On Unearth, she keeps her lyrics and sounds abstract and sparse, but also manages to offer an intimate, moving experience."
Jay Som-Everybody Works
Matthew Shipp, Whit Dickey, Mat Maneri-Vessel in Orbit
"From beginning to end, the album pulses with life.  These musicians hold blues and swing in everything they do, but they sound ridiculously fresh, unique, and in the moment at all times.  Dickey is a painter at the drums.  He never lays down the rhythm too obviously, yet the allusions to swing can always be heard.  "Space Walk" reads as barren and contrasts the slightly more consistent rhythmic drive of the first track.  Dickey is all over his toms on the track, but he also taps at the ride cymbal with the swell of each miniature musical phrase."
Kendrick Lamar-DAMN.
"Damn isn't a concept album, it isn't a huge, sweeping narrative, and, truthfully, it isn't packed with as much depth and nuance as To Pimp a Butterfly and Good Kid Maad City.  However, it features the best rapper of the current moment doing exactly what he needed to after an 80-minute cinematic ploy.  Damn features Kendrick contemplating his position and humility, it features his right-of-passage radio hit with Rihanna, and it features him plain old rapping his ass off.  It doesn't feature the hyper-organization of To Pimp a Butterfly, nor does it feature the linear story telling of Good Kid, but what Kendrick has done is he's just exploded all his usual forms and simply delivered song after song with incredible production, mind-blowing beat changes, and catchy hooks."
Slowdive-Slowdive
"All too often, comeback albums are a product of some combination of a popular middle-aged band needing retirement funds, labels at a loss for sales with young folks, and the human condition's constant desperation for the past.  The formerly critically-shunned shoegazers missed all of that."
Mount Eerie-A Crow Looked at Me
"A Crow Looked at Me is a glance at the stream of consciousness ramblings of Phil Elverum as he mourns the loss of his wife Genvieve Castree to cancer in July of 2016.  Besides the final song where Elverum makes eye contact with a crow, later hears his daughter talking about a crow in her dreams, and finally finds peace in the fact that the crow is the reincarnation of his wife, the album doesn't dabble in a whole lot of symbolism or poetic devices, and the music consists of matching simplicity.  It's a piece without answers or goals—it's simply a man trying to find catharsis in speaking his day-to-day truth."
March
Migos-Culture
"As many a rap crew have been over the course of the art form's history, Migos are for the youth.  "We ain't really never had no old money/We got a whole lotta new money though" they spit on "Bad and Boujee," an early contender for the year's most iconic single.  Roughly two years after showing the world the dab, Migos present "Culture" to claim a bit of their undeniable influence.  The album isn't a work that will shatter your world view or wow you with intricacy, but it is one that will keep you entertained with witty, fun lyrics, full-proof chemistry, and the occasional sober moment about how the trio's dangerous lifestyle wasn't necessarily a result of choice."
Jessica Ackerley Trio-Coalesce
"Jessica Ackerley is a Canadian-born jazz guitarist who has since relocated to New York City.  On Coalesce, she seems to have completely accomplished her goals.  To quote her liner notes: "Coalesce is an exploration of the guitar trio. The compositions have been a three-year process of honing the perfect balance between compositional form and complete free improvisation."  It's clear that the songs on this record are structured and planned, but the group's flexibility is impeccable.  Melodies melt into open sections of improvisation with ease; solos flip-flop between individual focus and collective conversation effortlessly; and the group finds room to embrace space and silence between their primal noisy jam sessions making for a record that offers constant surprises and a perfect balance between not only improvisation and composition, but anticipation and stimulation."
Parlor Walls-Opposites
Armed with konked-out free jazz saxophone and no-wave punk sensibilities, Parlor Walls paint an emotionless, futuristic void to speak about modern mundanities, societal constructs, and relationship tensions.  Self-described trash-jazz musicians, the walls pit Alyse Lamb's raucous vocal deliveries and scrapping guitar musings against Kate Mohanty's screeching horn over open-faced drum grooves from Chris Mulligan in a number of different aesthetic realms.  Crime Engine Failure opens with a straightforward distorted landscape, but tunes like Me Me My and Cover Me jump into a more industrial realm, leaving the tumultuous jam session Teach Me Where to Roam out in left field as an outlier.  At this point in time, the lines between free jazz horns and punk-induced yelps have been drawn before, but Mohanty's lyrics leave room for interpretation and the dynamic songwriting approach makes for a riveting experience.
Dirty Projectors-Dirty Projectors
"Now essentially a solo project of David Longstreth, the "Dirty Projectors" as an art project are in a state quite similar to Longstreth's personal life.  Having just gone through a break-up with former band member Amber Coffman, both Longstreth and his "band" are feeling lonely and torn apart.  As a result, Dirty Projectors is a breakup album.  The very first lyrics evoke those initial thoughts when part of your being has been ripped out: "I don't know why you abandoned me/You were my soul and my partner."  Later, Longstreth reminisces on the beginning of their relationship, talks about the pointless fights, and victoriously finds some sense of moving on by the end.  Sonically, the record almost sounds like a Bon Iver cover version of Kanye's 808s and Heartbreaks; or perhaps just a glitchy pop aura with some fake rapping and funk riffage questioning whether or not Longstreth is worthy of the alternative R&B tag.  It's a beautifully displaced piece that finds a unique, but sensible place in the contemporary musical moment."
Fog Lake-Dragonchaser
Largely crafted by songwriter Aaron Powell, Montreal's Fog Lake surround poetic takes on nostalgia, suffering, and lost connections with a mass of bleak rock aestheticism, the entire instrumental pallet mixed into one grim soup.  Dragonchaser isn't necessarily a concept work, but many of the songs speak about the destruction that results from being stuck in a rut of unhealthy habits.  The opener pulses at a sluggish tempo with Powell repeating "I'll just wait for Novocain," his only solace from "such easily forgotten days."
Best of February. No Particular Order.
Sampha-Process
Sampha has been lurking in the shadows for years as a songwriter and collaborator; Kanye, Frank, and Solange look good on a resume, but this album was Sampha's chance to jump out into the spotlight.  On all accounts, Process is a victory.  Perfect instrumentals fill every corner of the work from modest piano/voice tracks to risky drum charts and sweeping backing vocals.  Sampha's words are heartfelt throughout, addressing everything from the importance of his mother, to the tough aspects of relating to one's family members and a few tunes about overcoming heartbreak.  It's an emotional journey that also happens to include some early contenders for best single of the year.
Priests-Nothing Feels Natural
Stormzy-Gang Signs & Prayer
Stormzy will tell you himself that this debut record was a long time coming.  Since gaining recognition as best grime act in the 2014 MOBO awards, he's been a bit aloof, releasing only singles, mixtapes and music videos.  The air gets cleared quickly on Gang Signs & Prayer as each of the first three tracks hit hard and emphasize—convincingly—that there's nothing to worry about—Stormzy is clocked in a ready to go.  He also quickly convinces us that he's not one dimensional with a gospel number and later features offered by Kehlani and Nao.  Perhaps the album is a bit of a mixed bag and perhaps a few too many tunes gush with excess, but this record showcases a dynamic songwriter who commands each and every minute with his striking personality.
Julie Byrne-Not Even Happiness
There are certain formulas that have stood the test of time and the folk singer/songwriter equipped with acoustic guitar is clearly one of them.  Although the pillars of the 1960s and 70s—Dylan and Mitchell—might still be the ones truly at the tip of your tongue when the topic is brought up, Chapman, Elliot, and Sufjan have carried us on to modern day.  Aided by some blissfully subtle decisions from producer Eric Littman, Julie Byrne has carved out a nice niche for herself on Not Even Happiness.  The album's transient landscape effortlessly maintains a natural sensibility, while also tapping into some gorgeous electro-acoustic findings.  Byrne's lyrics are beautifully introspective and focused so the album reads as a personal journey with words of wisdom for all people.
Lisa Mezzacappa-avantNOIR
On AvantNOIR, Lisa Mezzacappa showcases a knack for achieving a great overall ensemble sound in an aesthetic that strikes a balance between noisy avant-garde jazz and more straight-ahead materials.  Beginning with a quirky three-minute tune, diving into some ambient realms in the middle, and ending with a floating, back-beat jolt, this album truly offers seven contrasting tunes, yet there's a moody quality that connects each number.  Mezzacappa has been around the bay-area jazz scene for quite some time now, but this is my personal introduction to her music and it's clear that she will become a staple of my jazz listening for years to come.
Best albums. January. 2017. No Particular Order!
Run the Jewels-RTJ3
"RTJ3 opens in a Twilight Zone type of space.  The dark, dystopian world references bits and pieces of our own, but—whether or not the project is intended to be displaced to the year 2100 as one of the tunes alludes to—the work doesn't directly address today's headlines.  This is not entirely new; since his roast of Ronald Reagan on R.A.P Music, Killer Mike has devoted much more time tearing down the whole of "fuck boy" than isolating particular fuck boys. The difference for this project is rap's meanest duo is scared.  Mike's "The closest representation of God you might see" and El's "motherfuck your permission" on their previous effort's opener "Jeopardy" are replaced with "Down's" "I hope with the highest of hopes/That I never have to go back to the trap/And my days of dealing with dope" and a chorus reading "I coulda died y'all."  The blistering attack on the ears of Run the Jewels 2 is molded into a harrowing journey with heavy, brooding darkness.  The spirit of the duo still remains intact enough for some hyperbolic insults and comedy, but Run the Jewels 3 is certainly no laughing matter."
Austra-Future Politics
"Austra's voice gives new meaning to music critic phrases of "soaring melodies," "atmospheric high notes," and the like.  Throughout Future Politics, impressive vocal acrobatics float over icy electroacoustic space, only coming down to earth on occasion to utter viciously catchy hooks.  The record touches upon the cold nature of contemporary society and government with city life, capitalism, and relationships all facing dissection.  Although Austra's beats punch and her more radio friendly cuts may incorporate instances of blissful warmth, the record is certainly not complete without tension and contemplation."
Daniel WJ Mackenzie-Every Time Feels like the Last Time
"UK-based Daniel Mackenzie is a rather multi-dimensional artist with experience in improvisation, concept compositions, and sound installations.  Every Time Feels Like the Last Time, his first release with Eilean Records, touches upon many of his skills, while also managing to commit to specific overall aesthetic.  Classical, acoustic ideas emerge from the dark electronic pool of drones and abstract melodic material with more intense moments yielding massive pillars of distortion.  Clear rhythmic pulses are crafted without the use of drums making for a starkly unified overall sound.  Mackenzie also re-contextualizes various sounds constantly.  Slight adjustments to the piano's reverb and echo push the instrument from the intimate, up close and personal back into the depths of darkness.  As a whole the record comes together excellently, offering new and exciting material throughout."
FJAAK-FJAAK
"Berlin's FJAAK certainly take the city's club scene under their wing, however, their album is much more than an electronic dance record.  Rather than building their songs atop some sort of bassy beat foundation, FJAAK only use their pummeling beats as a sort of stabilizing agent, sometimes to tie together sparse melodic ideas and other times to cut through an icy, ambient environment.  Also, besides the few relentless pummeling tracks, FJAAK channels the likes of Oval for some beautiful, shimmering moments.  There's even less of the constant up and down action of dance music records as FJAAK spends huge swaths of time subtly changing beats before stripping down to a barren place or sucking all of the air out of a tune to smash speakers with some brooding bass.  The album might not be the most emotionally heavy work, but it definitely offers surprises throughout."
Injury Reserve-Floss
"Injury Reserve are one of those groups that you want to root for.  As they'll tell you on their latest effort Floss, their music careers began in a Dentist's office where three friends who were all "sick of wishin" cooped up for a couple weeks to put together a rap tape.  Floss is their second tape from that office and again they've compiled some ruthless material with titles like "Oh Shit!!!" (that's three exclamation marks) and "All This Money."  Besides the banger-worthy hits, however, the group's heart shows loud and clear on the more emotionally moving material making for a fantastic collection of songs."
Little Simz-Stillness in Wonderland
"Little Simz isn't one to drown you in overly complex themes and metaphors.  After another year garnering more attention and touring uncharted territory, Simz found a minute to jump in the studio and reflect on it all.  Stillness in Wonderland is straight forward.  A few simple parallels between the rigorous touring lifestyle and Alice's wonderland guide the rapper through a collection of different moods ranging from frustrating self-doubt to heart wrenching loneliness and even boisterous confidence.  The relative transparency of the work doesn't detract from Simz's talents, however.  Rather than deeming herself a conscious rapper with endless bars of introspection, Simz favors the three-minute pop format with infectious hooks and quick-witted bars having equal weight in her songs.  The album feels refreshing.  It's both a quick, fun listen and a thoughtful depiction of Simz's life."
-Donovan Burtan
November:
Childish Gambino: Awaken! My Love
"2016 sees Glover the grown-up.  You have to admire the guy's ideas over the years, but rather than relying on his youthful freshness to land all of his jokes, his now multi-dimensional personality has allowed him to capitalize on all his talents efficiently.  Like his pointed depiction of the black experience on his series "Atlanta," "Awaken! My Love" comes together in a mature setting.  An educated re-interpretation of the likes of Parliament, Prince, and James Brown smashes ears for the half with spacey, mellow soul tracks finishing things off.  Perhaps Childish Gambino's voice lacks a sliver of the natural beauty of the likes of Frank Ocean and Beyonce, but the record displays as mastery of "playing to your strengths;" lush instrumentals and backing vocals combine nicely with vocal effects and various instances of voice acting—take the halloweentown tropes of "Zombies" for example—to make for an entertaining experience from front to back."
Mary Halvorson: Away With You
Okkyung Lee and Christian Marklay: Amalgam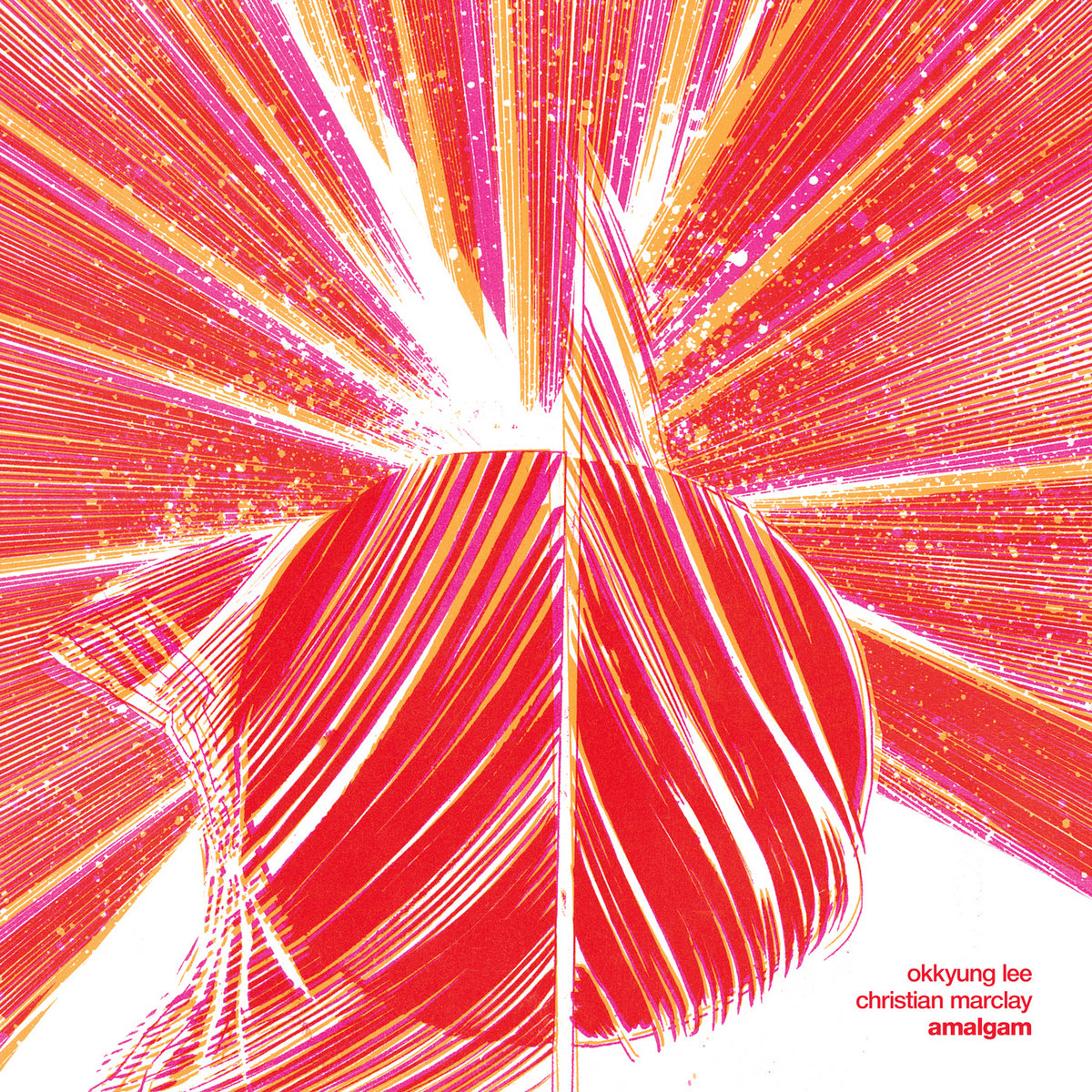 "Amalgam is a tightly-knit jam session for the future between improvised-music cellist Okkyung Lee and turntablist Christian Marclay.  Opening with a particularly dense five minutes of music, the album takes a series of rather unpredictable ups and downs with various textures and rhythmic ideas coming into play over the course of the single, 36-minute track.  Although Lee is, arguably, outmatched by the sheer magnitude of Marclay's fire power, the project thrives on the certain singularity that the musicians find in the sonic landscape.  Rather than battling it out to make the most noise, the duo confides in one another at every turn almost sounding like a single instrument.  The resulting work successfully merges the electronic-music notion of avant-garde with the jazz-rooted instrumental realm making for an intriguing sketch of possibilities for future intersections of these idioms."
Pinegrove: Cardinal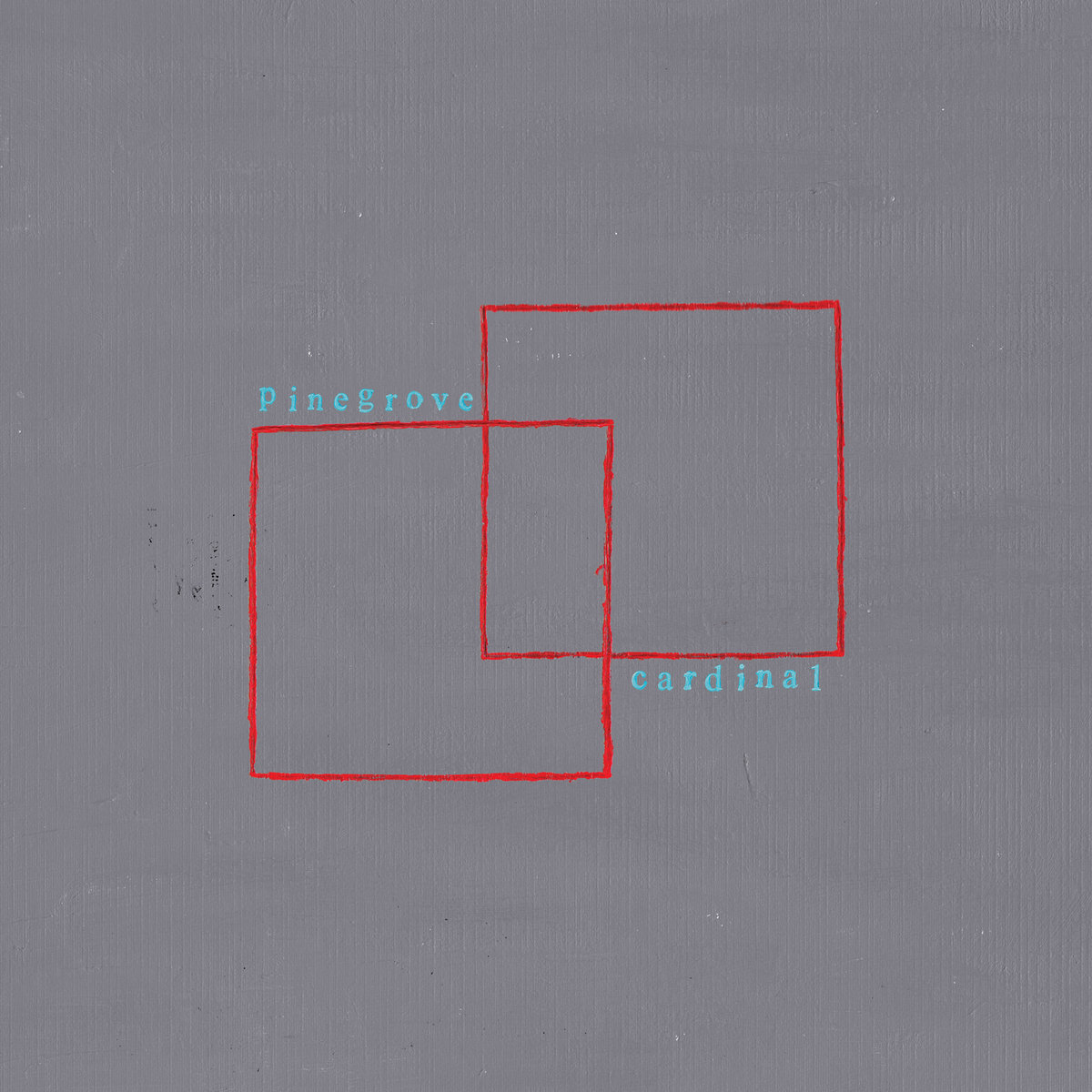 "Pinegrove nail the crawlspace between the unwitting optimism of youth and the terrifying realism of the first step into the freezing pool of adulthood.  Each song on Cardinal touches upon heartbreak in one capacity or another, but the soaring, anthemic peaks look to the future without any sense of fear.  Perhaps their songs are a bit formulaic, but Evan Stephens Hall's knack for compelling lyricism earns the group the right to scream out each chorus one final time at the end of each song.  Also, the astoundingly lush take on instrumentals takes emo to a surprisingly mature place without losing the intimacy key to the introspective lyricism that the idiom is so famous for."
A Tribe Called Quest: We Got it From Here…Thank You 4 Your Service
"A Tribe Called Quest never really chased a particularly massive sound and although 2016 has been rife with drawn out comeback albums and overwrought stadium tours for old folks, the group has left their final note to their fans in a rather unsuspecting fashion.  Announced only two weeks before its release—a few months after the group lost the legendary Phife Dawg—We Got it From Here…Thank You 4 Your Service came into the music world's collective itunes without a hit-single or some tidal exclusive bullshit and, luckily, the group managed to complete the record without having to piece together strange scraps of verses from their late member.  The album is a testament to the relevance of flow and political poignancy in a tumultuous time.  It's a record that perfectly balances reminiscing on an important time period and looking ahead to the continuation of the tradition.  Tribe sticks to Tribe, humbly taking their final bow on one of the best goodbyes ever crafted."
October:
Wadada Leo Smith: America's National Parks
"On America's National Parks, Wadada Leo Smith adds another chapter to his United States history-based collection of compositions that first saw release with Ten Freedom Summers in 2012.  Having been heavily involved in the free-jazz community since the early 1970s, there's little left to be analyzed in Smith's handling of the horn, yet his voice continues to remain at the forefront of avant-garde instrumental music with each passing year.  Perhaps the success of this album hinges on the logical relationship between Smith's practiced understanding of improvisation and the impactful cultural resonance of the subjects he has chosen to honor through this music.  The title is not entirely misleading as a majority of the songs are named after actual National Parks, however, Smith has stretched the underlying idea of National Parks to also include cultural landmarks and people who have achieved a National Park level of significance.  These monumental landmarks combined with Smith's own "landmark" level of importance in his own community combine for a blissful album that breathes life through every massive peak and ominous valley."
Solange: A Seat at the Table
"Solange Knowles has truly come into her own on "A Seat at the Table" and although her character arch avoids the grandeur of her sister, her message remains no less powerful.  A 21 track neo-soul masterpiece, the album follows an extraordinarily well-constructed narrative with a fair share of standout tracks providing peaks of excitement amongst Solange's intimate minimalism.  Biting political messages come to surface as Solange discusses her various intersectional experiences as a black woman in the United States."
Bobby Kapp and Matthew Shipp: Cactus
"On Cactus, pianist Matthew Shipp and drummer Bobby Kapp find a level of musical kinship nearly unmatchable in the modern jazz lexicon.  Although both are confined to standard playing techniques on standard instrumentation, their raw talent and ear for jazz repertoire guides the listener through a contrasting program of improvisations with biting energy that drives the piece forward with each passing track.  Perhaps one of the advantages of the confinement to standard acoustic practice is the natural, human element that remains central, especially considering the rhythmic connotation of the two instruments at play.  When two melodically focused instruments improvise, it can hard to push ideas forward as the energy provided by rhythm is often lost.  Partially due to instrumental selection, this is not a problem for the duo.  On top of this, the musicality and chemistry that seeps in each area of high-activity remains prominent in the more ambient, quiet sections making for an experience that never falters in intrigue."
Glamour Nails: Glamour Nails
Xarah Dion: Fugitive
September:
Jason Sharp: A Boat Upon Its Blood
"A brooding sense of instability sets in from the outset of A Boat Upon Its Blood. Rattling percussive clicks emerge from the crevices with a warm glow of electronic drone filling the barren soundscape. Around the midpoint, the audience is granted an element of melody but the uneasy darkness remains ingrained in every developmental move. With each song, bass saxophone player Jason Sharp continues to disregard comfortable resolution, utilizing the captivating nature of dissonance to its full capacity. Sharp also displays a mastery of texture throughout the record. Just as the bass saxophone lurks in the background as a simple cog in the machine, elements of ambient, electronic, and acoustic musical practices all circulate throughout the project with no single element taking over the majority of the focus.
Bookended by two long-form pieces, the record dives into a slightly more dynamic pair of tracks in the middle. In doing so Sharp avoids formula, again feeding into the idea of instability. "A Blast at Best," the second of these tracks, offers the most direct assault on the ears. Every moment in this track is filled with abrasive sounds: from fuzzy blasts of distortion to screeching saxophone and violin sounds, Sharp truly puts all his cards on the table. This is where track listing comes into play. From the beginning, the album breathes intensity; however, it also leaves room for growth by reserving the most chaotic elements until the second half of the album. Following this loud outgoing burst, Sharp returns to long-form ideology on "Still I Sit, With You Inside Me." Violin grasps the spotlight for eight minutes of heart-wrenching melodic work before the second part of the piece moves into hopeful bliss and a final push into the anxious intensity so present throughout the project."
Angel Olsen: My Woman
"Admittedly a lyric like "You'll Never Be Mine" can go a multitude of different ways, many of them poor, but Angel Olsen has a real talent for pulling the listener into her world and making them feel all of her emotions.  "My Women," Olsen's latest effort, follows loose themes of heart-ache and love with cool vocal stylings and folk-rock induced instrumentals making for a rather intense emotional journey.  Beginning with a short, stripped back tune, the album first touches on some slightly cliché themes of break-ups, yearning, and hatred with quick-hitting rock songs.  The second half of the record strikes a slightly more mature chord with long-form tunes depicting specific moments of Olsen's life with stunning emotional impact.  Sonically speaking, the album finds enough of a niche in the general indie sounds of today with rich vocal production and varying instrumental set-ups; Some songs read as straight-forward acoustic hits, whereas others reach near symphonic heights with rotating pianos, strings, and guitars.  Perhaps the album is not forging an entirely new path, but it certainly doesn't lack in beauty."
Danny Brown: Atrocity Exhibition
"Just as Danny Brown's verses stand on the edge of sanity, the beats on his new aptly titled "Atrocity Exhibition" ride waves of wild instability with rapid change coming with each passing track.  Perhaps a bit more neon-infused than your average post-punk album, the aesthetic of the more instrumental cuts thrives on driving bass lines and bleak guitar sounds in a similar fashion to Joy Division, making for an intriguing combination of genres.  In a manner only Danny Brown could achieve, the lyrics jump between humorous metaphors and meaningful anecdotal evidence from Brown's life.  When it comes down to it, Danny Brown has a larger than life personality on all accounts and although this may lead to problems if Brown's extravagance overstays its welcome, the album's dedication to classic aesthetics of hip hop keep everything palpable."
Preoccupations: S/T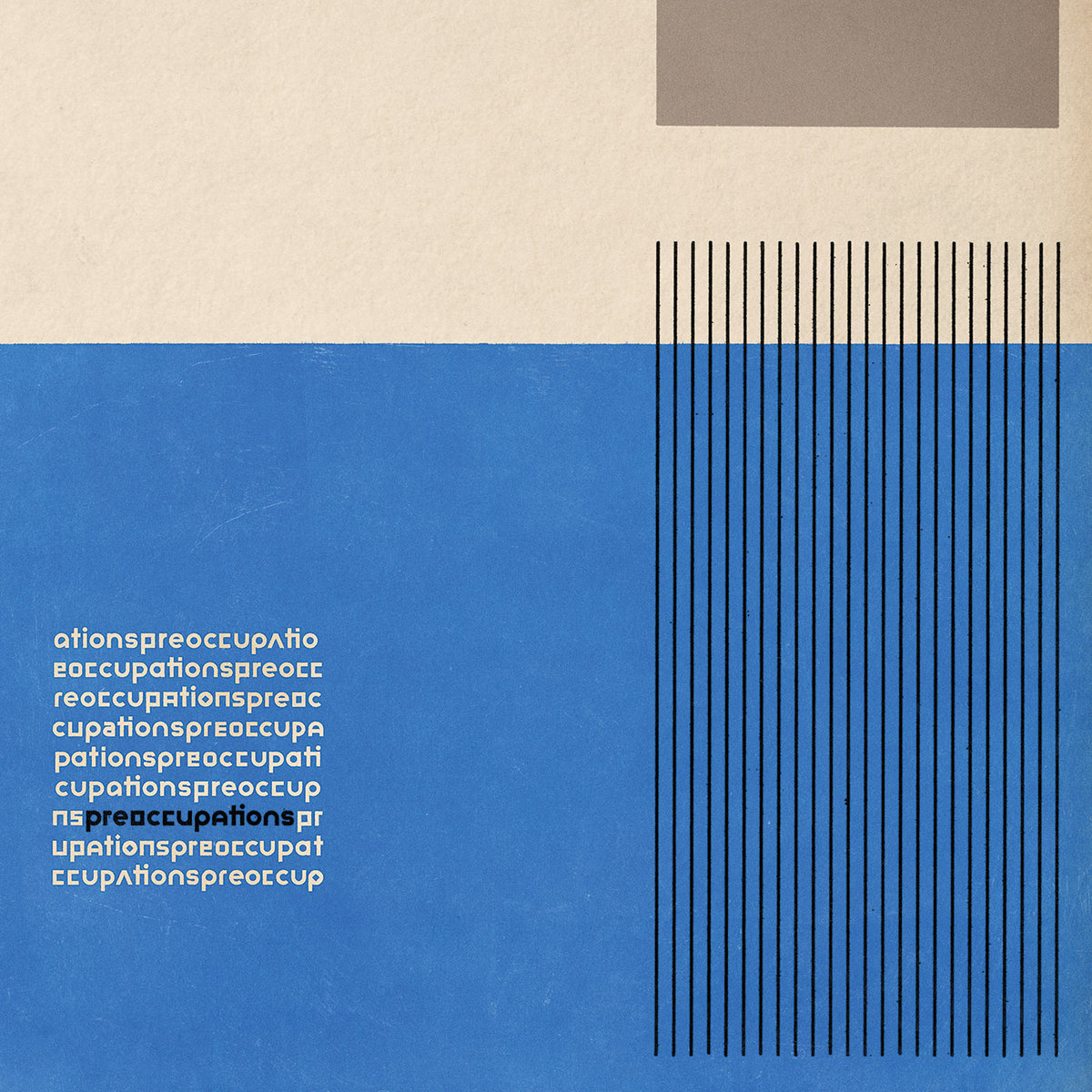 "One year removed from their self-titled album "Viet Cong," newly named Preoccupations continue to find discord in the darkest depths of the 1980s.  A pressing punk sound driven by bass with a baritone vocal drawl at the helm is always going to be inseparable from the post-punk era, meaning that the album must be marked by how it provides revisions to the formula.  Beginning with brooding drones, album headliner "Anxiety" only emerges from the ominous space around one minute into the song.  Certain songs melt into each other giving an element of continuous soundscape.  The 11-minute-long "Memory" may epitomize this notion as the middle of the song finds a completely new vocal melody before harping on more drone sounds as the second half of the album sets in.  To some degree, the album operates more in the fashion of post-rock than anything else as the sound is not only marked by brilliant songwriting, but by the sweeping way in which each new sound connects."
A Tribe Called Red: We Are the Halluci Nation
wrote a brief review of this for http://cultmontreal.com/'s print edition:
Occasionally, some of your visitors may see an
August 2016
Nao: For All We Know
"her wobbling funk music bounces with a certain fury giving her high, R&B vocals a smoldering impact"
Read the rest of the review here
Sylvie Courvaisier, Mark Feldman, Ikue Mori, and Evan Parker: Miller's Tale
"real effort for every sound to be justified, every raw melodic choice comes from a logical place making for a record that should appeal to most music fans"
Full Review here
Steve Lehman: Sélébéyone
"angular, modern-jazz melodies perfectly complement the jumping overtones of Gaston Bandimic's flow with vivid production pulling from both idioms"
Full Review here
"emphasizes effortless, natural songwriting, each song sounding like an off-the-cuff melodic exploration"
"Perhaps the album has some relatively lacking hooks, perhaps it over-emphasizes melancholy moodiness, but the return of Frank Ocean is certainly a spectacular feat"
July 2016
ScHoolboy Q-Blank Face LP
Check out my first impressions on the album as well as my thoughts on hit "Whateva You Want"
Blood Orange-Freetown Sounds
Blood Orange is sick check out my first impressions on the new album and thoughts on the song "E.V.P."
Braids-Companion EP
"Companion EP feels necessary"
read my full review of this project here
Life and Other Transient Storms
check out my review of this album right here
Aaron Lumley-Katabasis/Anabasis
got to interview aaron as a part of my podcast series listen here
also did a first impressions post about this album
Xenia Rubinos-Black Terry Cat
check out my first impressions post about this album
June 2016
Nick Fraser-Starer
"Although the album includes one song of over 10 minutes in length, Fraser wastes little time in his idea development, quickly moving from minimalist beginnings to high-energy final blows."
Check out an interview that I just did with Nick here
Review of "Minimalism/416-538-7149"
Mitski-Puberty 2
"Puberty 2 opens with a song that speaks to the emotion of happiness as real person, providing a first hand look to at Mitski's fleeting ability to remain happy.  Throughout the album Mitski maintains this discussion through a series of telling metaphors"
check out my thoughts on the tune "Crack Baby"
Jessy Lanza-Oh No
Had a chance to do an interview with Jessy for Cult MTL look out for it in the next week or so.
"collection of expertly produced electronic pop tunes that complement her strong vocal performance"
Check out my thoughts on "Never Enough"
Nate Wooley-Argonautica
"Through the incorporation of jazz musicians from the free community and the more straight-ahead fusion side of the jazz world,  Wooley presents a space where musicality is at the fore-front with different stylistic preferences epitomizing contrast."
Liked this album a lot on my first listen as well as the three or four listens that followed.  Plan on doing a full review in the near future.
Clipping-Wriggle (EP)
"the group uses intriguing sampling to construct an industrial aesthetic matching the hard-lined delivery of Diggs"
Check out my thoughts on the song "Shooter"
case/lang/veirs-self-titled
"lush, folk sound aesthetic, each of them sharing the spotlight to allow their voices and lyricism to sing out together"
check out my thoughts on "Supermoon"
DB
May 2016
Chemiefaserwerk-Collagen
Very intriguing new sound art from Chemiefaserwerk.  A premier record on the new Falt records label based in France!
check out my thoughts on track "Stromern":
"On "Stromern," Chemiefaserwerk leaves his listener in an esoteric white noise soundscape to fend for themselves"
also look into my first impressions on the project:
"values subtlety above all else with fuzzy peaks of white noise arriving between open spaces with crisp crackles and pops"
Thumbscrew-Convallaria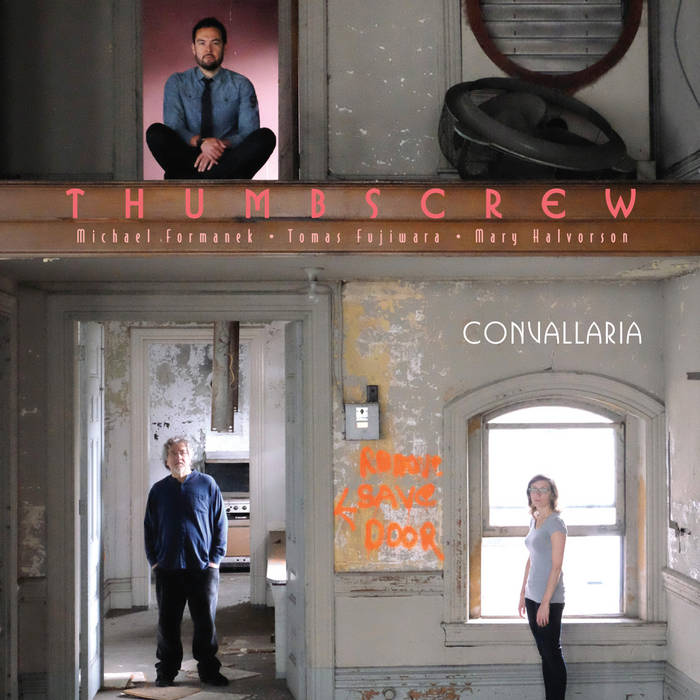 Mary Halvorson's involvement in a project signifies some level of intrigue.
"On their new release, Thumbscrew juxtapose well defined rhythmic space against flat, open planes with Michael Formanek and Mary Halvorson constantly communicating back and forth, both carrying a heavy breadth of expression in their respective voices. Halvorson's quirky melodic interpretation is also complemented by Tomas Fujiwara's textural drum articulations making for a truly collective effort.  Although the group could have easily fallen into the trap of rhythm, chords, and bass, their unpredictable song structures allow for each member to shine through at varying time intervals.  "Cleome" serves as a groove driven opener whereas "Trigger" embodies the melody of a semi-typical ballad and "Screaming Piha" floats off into the void.  Contrast shines through from track to track culminating in an album that surprises both in composition and interpretation from beginning to end."
Check out my thoughts on album opener Cleome
Check out my first reaction to the album here
Death Grips- Bottomless Pitt
Death Grips always deliver and this album is no different.
View my final thoughts on the album here
"Bottomless Pit is yet another brilliant work from Death Grips: a group that may be the most interesting experimental music project of the decade.  The album is quick-hitting in every sense.  The catchy hooks are bathed in a sea of destructive, guttural noise with Ride's signature scream brutally breaching the surface.  MC Ride comes across as the king of apathy.  His character throws around violence to conjure up shock in the band's esoteric world.  Lines like "Hooded regime like ebola" and "can't kill myself twice" feed the dystopian nightmare.  In "Eh," Ride tosses any idea that comes to his mind showcasing the dehumanizing nature of his existence."
Read up on my thoughts of the album's kick-ass opener "Giving Bad People Good Ideas"
Also check out my First Impressions on the album
Suuns-Hold/Still
I felt like I didn't really have enough time to digest this album when it came out in April, but it became a big part of my May and I've been writing a lot about it.
Check out my full review:
"effortlessly combines guitar-based rock music with sounds of Montreal's underground resulting in one of the most interesting contemporary releases of the first half of the year"
Also check out my thoughts on the track Resistance:
T-Rexstasy-Jurassic Punk
Check out my First Impressions on the album:
"T-Rextasy employ unique vocal deliveries over their riot grrl foundation to stand out in a crowded genre"
Also look into my thoughts on their song "I Wanna be a Punk Rocker:"
"The chorus is fun, the guitar playing crude, making the song a perfect example of punk rock"
The Range- Potential
"On "Potential" The Range offers a beautiful collection of sounds built on the foundation of keyboard melodies decorated by samples found around the depths of youtube.  Beginning with the words "right now I don't have a back-up plan for if I don't make it,"  opener "Regular" attains an anxious tone.  In a way the album sheds light on the feelings of youth as some moments lead to bright beauty and others dwell on anxiety and heartbreak.  The album builds into moments of glory on its particularly dance-able tracks like "Copper Wire" and "Florida."  The Range is a master of texture.  His warm baritone-range melodies are always highlighted by clicking drum sounds and plucked strings giving the tracks beautifully articulated rhythms.  It is truly astounding how well integrated the youtube samples are.  Although they avoid the forefront a bit, instead manipulated in a way that values melody over lyricism, The Range doesn't use them to show off, always valuing musicality in the highest regard."
Check out my thoughts on the song "Florida"
April 2016
Weezer- Weezer (White Album)
Wrote an Ear Worms post about this one.
"The White Album seems to be an album that has solidified all of the band's ideas on Everything Will Be Alright in the End."
Twentyone 4tet- Live at Zaal 100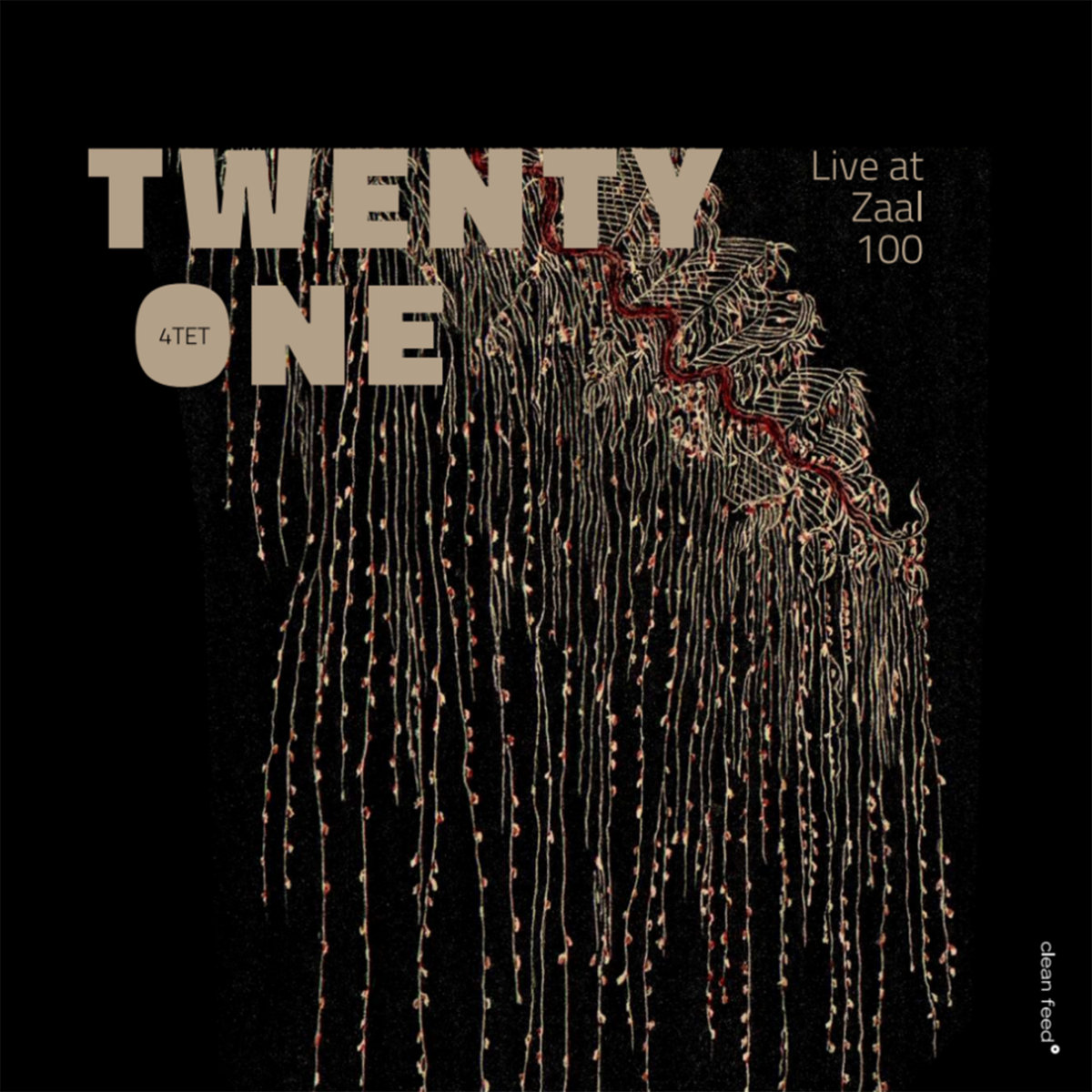 Read my rundown of one of the tracks on this album right here
"Four men with a slew of jazz knowledge play whatever they feel is right in the moment for long periods of time."
Ras Moshe and Stefan Christoff- Rêves Sonores à Alwan
Wrote a full review of this album last week.
"In the realm of contemporary music, free jazz and electronic sound art have run in similar directions.  The idea that an architect of sound can evoke a meaning that is rooted in traditional musical phrasing, yet free from the traditional systematic approach to organizing pitch and rhythm is the basis behind both art forms.  Despite the similarities in mentality and phrase structure, the contrasting sound aesthetics valued in each musical style provide for ideas that communicate without producing a sound leaning more towards one art form.  On Rêves Sonores à Alwan, the newest release from Montreal's own Howl Arts Collective, Saxophone player Ras Moshe, Pianist Stefan Christoff, and producer Nick Schofield have joined forces resulting in a piece of music that explores the expressive possibilities of sound in both an electronic based community as well as a more jazz rooted conception."
Read the rest of my review right here
Ida Toninato- Strangeness is Gratitude
Check out my thoughts on her track Wanderers
"Wanderers is a perfect overview of Toninato's knack for capturing her observer."
Kweku Collins- Nat Love
read up on my First Impressions
"Upon my first listen of his recently released album, Nat Love, I was impressed by Collins' unique approach to the mellow rap sound.  His beats are simple yet warm with soul.  His flows laid back but syncopated in a standout manner."
Also check out my thought on the song "The Outsiders"
"On "The Outsiders," Kweku Collins pulls off mellow introspection with his gently produced backing tracks and genuine lyricism."
Beyonce- Lemonade
I have not written a lot about this album on my blog so far, but I have been thoroughly enjoying it since its release last week.  It seems that Beyonce has left behind her commercially focused past and put forth an album writhe with maturity depicting the strength of black women in America.  Despite the dance-able nature of her beautiful vocal lines, Beyonce does not seem to be chasing the party-banger sound rather favoring an intimate sound as she dismantles her husband's wrongdoing.
Worked out a review of the track "Freedom"
"raw, emotional power of Lemonade is epitomized as Beyonce tells her tears  to 'Go and fall away, fall away.'"
March 2016
AJ Cornell and Tim Darcy- Too Significant to Ignore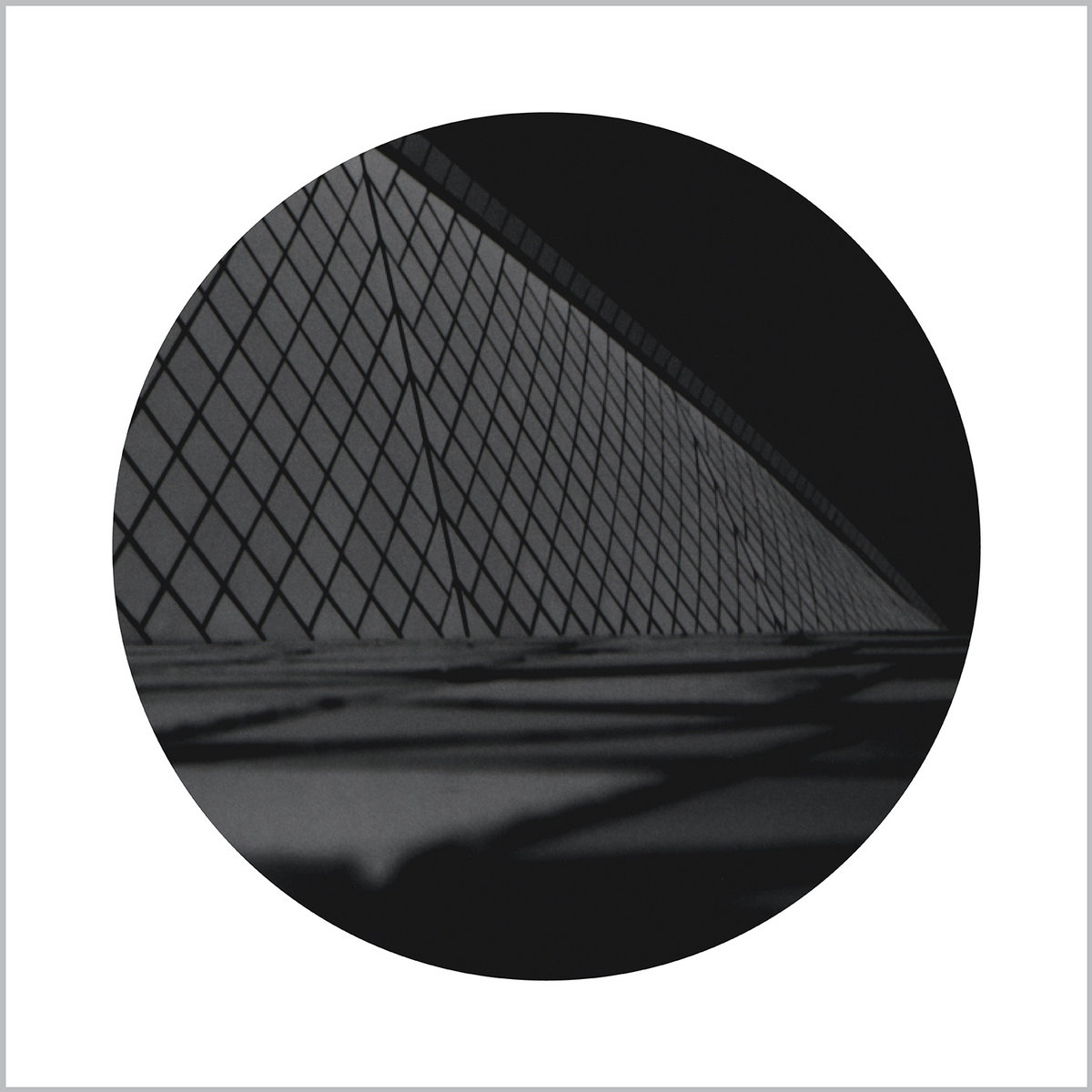 "We've always known Tim Darcy had a way with words.  Last year he stunned us with the line "I'm no longer afraid to die cause that is all that I have left" from the song "Beautiful Blue Sky" on Ought'sSun Coming Down.  The band's first album More than Any Other Dayalso had its brilliant lyrical moments; "today, more than any other day, I am prepared to make a decision between 2% and whole milk" said Darcy in a particularly ironic discussion of his grocery shopping.  With the help of electronic musician AJ Cornell, Darcy's lyrical talent and vocal delivery have been put in a vacuum.  Gone are the erratic rhythms and bass lines he's usually featured beside.  Gone is Darcy's guitar centered songwriting style and vocal hooks.  Replacing the usual Ought set-up is AJ Cornell's eerie avant-garde electronic backdrop, which has brought a whole new personality out of Darcy resulting in the album Too Significant To Ignore."
Read the rest here.
Esperanza Spalding- Emily's D+Evolution
Heron Oblivion- s/t
wrote a Quick 100 review of this
"juxtapose subdued, clean vocal lines against elongated, heavy metal instrumentation with drama being the connecting factor"
Kendrick Lamar- Untitled Unmastered
Check out my brief review of Kendrick Lamar's Untitled Unmastered
"an incredible change of pace by an incredibly brilliant artist"
Wadada Leo Smith and Vijay Iyer- A Cosmic Rhythm with Each Stroke
Just did a write up of the piece A Divine Courage from this album
"On "A Divine Courage," the mood created by the pulsating, low-pitched bass line puts Smith in a tense, wide-open space."
February 2016
http://virginradiosucks.tumblr.com/post/140289310342/what-did-i-like-february
Itunes Playlist:
Kanye West-The Life of Pablo
Tamara Filyavich and Nick Kuepfer- Howl! Arts co-release
"Artistic collaboration is an important way of increasing an individual's impact by exposing the contrast in each artist's point of view. The right blend of surroundings is vital to an individual sound's significance and the juxtaposition of sounds that stretch into opposite directions shines more light on the qualities that make each one beautiful.  By featuring two entirely different sound artists on the same tape, The Howl Arts Collective has accomplished both a respect for artistic individuality and a display of thought-provoking contrast on their Sonic Carvings with Self Healing Clay/Return Fire Co-Release from Nick Kuepfer and Tamara Filyavich. Kuepfer's montage of texturally satisfying samples is met by Filyavich's taste for sound development and elongation. The idea of displaying each of these approaches in a no-correct-answer setting allows for a captivating conversation between the two."
Fantastic work read my full review here
Ty Segall- Emotional Mugger
"Following Ty Segall closely is a much different experience from following most artists.  The man with a seemingly endless supply of guitar riffs has been steadily growing a fan base over the past couple years with his straightforward, garage-punk sound aesthetic and hardcore style of rocking venues across the continent.  Each new work of his seems to come straight out of the jam room heavy with improvisation, bordering on the incomplete, and emphasizing the live performance.  The quick-fire nature of his album releases has led to a back catalogue with streaks of both brilliance and monotony, however, through the application of advanced production technics on his signature fuzz guitar and freakish vocal delivery, Segall seems to have struck gold with his 2016 release Emotional Mugger."
So good had to review it.  Check that out here
Kristoffer Lo-The Black Meat
Check out my thoughts on the piece "Front Row Gallows View"
"dark nature of its cover with it's menacing droning pieces that grow and swell"
Protean Reality- S/t
Wrote a Quick 100 post for these guys
"Protean Reality is an ensemble of young, European jazz musicians who have perfectly exemplified the beauty of Clean Feed records on their self-titled premier record."
January 2016
http://virginradiosucks.tumblr.com/post/138655661182/what-did-i-like-january
Here's what my January playlist looks like at the moment:
Anderson Paak-Malibu
David Bowie-Blackstar (RIP)
Wrote a Quick 100 review of this one:
Deep into the night on January 10th 2016, I was listening to Kanye West single "Real Friends," about to go to bed.  My attention for the weekend had been focused on the brilliant new David Bowie record.  With the help of jazz musicians Donny McCaslin, Ben Mondor, and Mark Guiliana (among others), Bowie had crafted what he referred to as his version of Kendrick Lamar's jazz induced Hip hop.  With the epic title track, Blackstar, Bowie once again managed to apply his songwriting style to a whole new image and aesthetic.  I was especially taken aback by the surplus of McCaslin solos and interesting electro-jazz beats throughout the piece. I was also intrigued by the way Bowie applied his modern jazz sounds to some of his classic chord progressions.  On January 10th, one little update from Consequence of Sound changed my whole idea of what this record meant.  Bowie had written his goodbye.  The Starman had supernova-ed in a departure only Bowie could have possibly pulled off.  Lazarus had been changed from the dark look at Bowie's mortality into his assent into another place.
No Negative-The Good Never Comes
"The relationship between musicality and lyricism is a complex topic as music in itself is a product of expression free from the limitations of language.  With maximum self-expression in mind, some musicians are able to avoid words all together and convey their emotion through composition or improvisation.  On the other hand, certain songwriters use sound as a way of increasing the impact of their poetic ideas.  The lines can also be further blurred by the possibility of writing lyrics pertaining to a more instrumentally-centric work and the display of musical brilliance alongside a more poetic work.  The poetic musicality debate is a subject of conversation on No Negative's December release, The Good Never Comes.  A product of the noise punk idiom, The Good Never Comes includes vocal work, however, at times the lyrics can be hard to understand resulting in a more textually important vocal presence.  Through their vague use of words and improvisational nature, No Negative are able to effectively display their emotions in a unique way that showcases both their way with words and ability to manipulate sound."
Really dug this album read my full review here
DB